Network slicing is the key feature of the 5G networks & enables to build dedicated logical networks on a shared infrastructure.
5G network slicing represents a network architecture that allows the multiplexing of both independent and virtualized logical networks on the very same physical network infra. Each slice is an isolated end-to-end network tailored to satisfy varied requirements asked for by a particular application
The network slice can be tailored based on the specific requirements adhered to a Service Level Agreement (SLA) agreed between Network Slice Customer (NSC) & Network Slice Provider (NSP).
The Generic Network Slice Template (GST) is a set of attributes that can characterise a type of network slice/service. GST is generic and is not tied to any specific network deployment.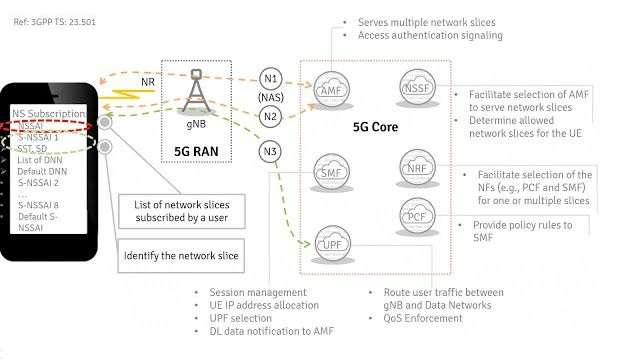 How UE assisted network slice selection works – An UE selects the network slice for low latency service & delivers the S-NSSAI list to CU-CP. The CU-CP can then select AMF based on the S-NSSAI.
If the UE does not provide S-NSSAI list during initial access, the CU-CP will select a default AMF. The AMF can select SMF based on S-NSSAI & load information while the SMF can select UPF based on S-NSSAI, location, & load information. CU-CP selects CU-UP based on S-NSSAI given by the AMF during PDU setup procedure.
---
Benefit from Massive discount on our 5G Training with 5WorldPro.com
The most complete and comprehensive 5G course, follow this
link
for more information
Start your 5G journey and obtain 5G certification
contact us:
contact@5GWorldPro.com