What is 5G NR Light ?
The basic massive MTC use cases, characterized by requirements on very low device cost and very low device energy consumption in combination with wide-area coverage, are assumed to be provided by means of LTE-based LTE-MTC and NB-IoT also in the 5G era.
However, there are several use cases that require lower device complexity and reduced energy consumption compared what can be provided by NR Release 15/16 and which, at the same time, has higher requirements in terms of latency and data rates compared to what can be provided with Nb-IoT and  LTE-M.
To address such use cases, 3GPP has initiated Release-17 activities on reduced-capability NR devices referred to also as NR Light, those type of devices have UE capability/complexity trade-off in-between the conventional eMBB services and the low-complexity services enabled NB-IoT and LTE-M.
Reduced Device complexity and energy consumption
In terms of reduced device complexity, the following modifications have been considered:
Support for reduced number of Transmission/Reception antennas at the device side
Reduction of the minimum required device bandwidth
Support for devices only capable of half-duplex operation (no simultaneous Transmission/Reception) in paired spectrum
In terms of reduced device energy consumption, the following modifications have been considered:
Reduced complexity in PDCCH monitoring by reducing the number of required blind decoding
Extended DRX functionality
The aim is to achieve the reduced device complexity and energy consumption without compromising the achievable coverage.
Expected capabilities of NR-Light devices
The characteristics required for these categories of devices, compared with full 5G NR devices and low-power wide-area (LPWA) IoT devices, are illustrated schematically in this figure: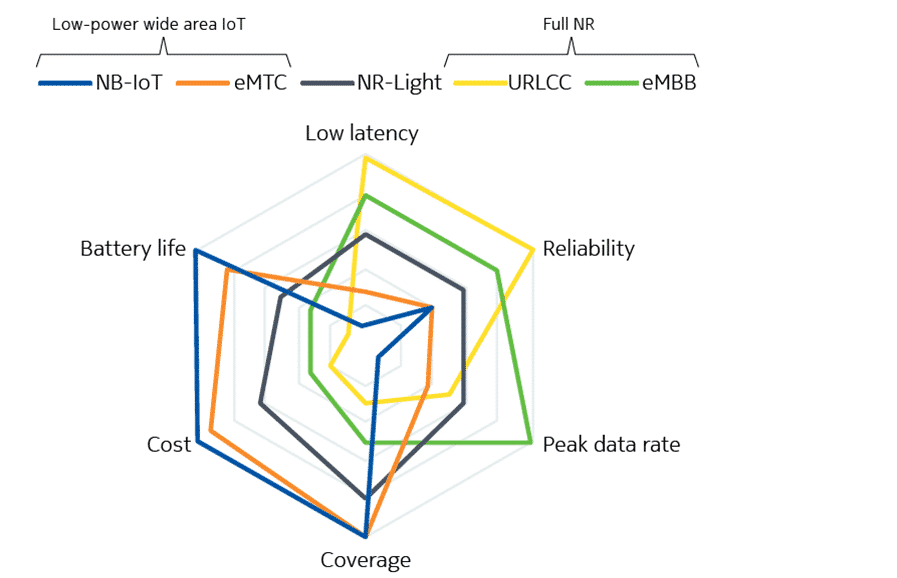 Adressing new types of use cases:
As we said this Release-17 technology capability is not intended to replace NB-IoT and LTE-M devices, but to address new type of use cases in Industrial IoT and other verticals:
Industrial wireless sensors with low latency (5-10ms) and medium data rate (<2 Mbps)
Medium to high data rate (2-25 Mbps) video transmission
High data-rate wearables (5-50 Mbps) with long battery life (1-2 weeks)
---
Benefit from Massive discount on our 5G Training with 5WorldPro.com
The most complete and comprehensive 5G course, follow this
link
for more information
Start your 5G journey and obtain 5G certification
contact us:
contact@5GWorldPro.com