SK Telecom is the operator leading the way on 5G (5G news: 5GWorldPro.com)
No doubt that SK Telecom is one the best operators in the world with great initiatives exploring the frontier of all areas of 5G since 2014 and achieved the world 1st 5G commercialization in April 2019 (having 100Mhz in 3.5Ghz  and 800Mhz in mmwave), below some 5G  SK Telecom initiatives since 2014: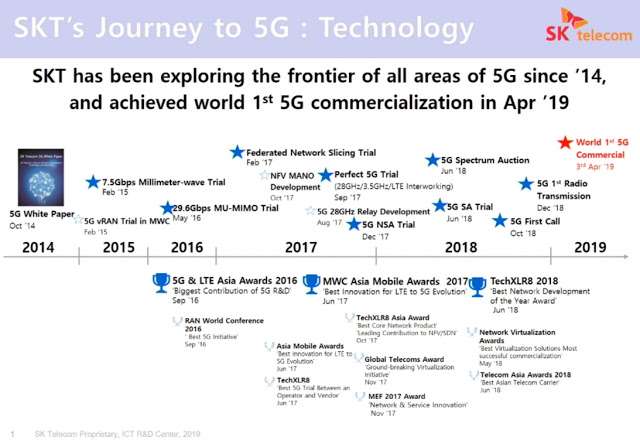 SK Telecom and introduction of 5G technology into hospitals:
SK Telecom has signed a MOU with Yonsei University Health System to provide digital solutions across 5G, artificial intelligence (AI), augmented reality (AR), and the Internet of Things (IoT) for their hospital intended to open in February 2020.
According to SK Telecom:"The 5G-powered digital hospital will be equipped with SK Telecom's AI speaker NUGU to enable patients with physical difficulties to easily control their beds, lighting, and TV with their voice. They can even use NUGU Call service to get medical assistance in case of emergencies. Moreover, the 5G-powered digital hospital will offer AR-based indoor navigation service through the application of indoor positioning and 3D-mapping technologies to enhance the convenience of patients and visitors."
Patients in isolation wards will also be able to receive visitors via holographic projections, the carrier said, while facial recognition technology will be used for medical workers to improve security.
"Authorised personnel can automatically gain access to buildings, labs, and other rooms through a facial recognition access control system.Unlike other access control systems that require some kind of contact — fingerprint, pass, etc — the face recognition system allows contact-free entry to help reduce the risk of infection."
SK Telecom and the Yonsei University Health System will continue to apply innovative 5G-based hospital solutions to the Yongin Severance Hospital and then to all hospitals under the Yonsei University Health System.
SK Telecom and autonomous driving using 5G technology:
SK Telecom and Seoul Metropolitan Government have entered into an agreement to jointly develop and verify HD Map technologies for autonomous driving. They will cooperate on the development of services for HD Map covering a total of 121 kilometers of public roads. These roads have been selected by Seoul's Cooperative-Intelligent Transport System (C-ITS) project, by installing 5G Advanced Driver Assistance Systems (ADAS) to 1,600 buses and 100 taxis. This project is designed to develop a transportation system infrastructure, including a 5G network and V2X system, on major roads of Seoul. In January this year, SK Telecom won a contract to deploy 5G infrastructure and services in the area. A total of 1,700 units of 5G ADAS installed in buses and taxis will collect 124 different types of road/traffic information and transmit the data via 5G network to support real-time update of the HD map. 5G ADAS, installed in public transportation vehicles, are designed to support vehicle-to-everything (V2X) communication.
SK Telecom and augmented and virtual reality using 5G Technology:
Regarding augmented and virtual reality these are key areas of focus for the operator. Using augmented reality technology, the large fire-breathing dragon was streamed flying around the SK Happy Dream Park during the opening day of the Korea Baseball Organization.
The dragon was streamed both to the LED baseball scoreboard installed at the stadium and via sports broadcasting channels for fans watching the game on TV and smartphones.
To achieve large scale augmented reality streaming, SK Telecom used its self-developed augmented and virtual reality technologies including the eSpace and T real Platform solutions. The demonstration arose from SK Telecom's focus on the development of 5G-based services to support its commercial network, which launched in December last year.
Receive our latest news here
For more information please contact us:
---
Benefit from Massive discount on our 5G Training with 5WorldPro.com
The most complete and comprehensive 5G course, follow this
link
for more information
Start your 5G journey and obtain 5G certification
contact us:
contact@5GWorldPro.com