2G/3G shutdowns is driven by the fact that operators have limited spectrum available for expansion. In order to provide a faster, more responsive network to their customers, they must re-use the spectrum with newer, more efficient cellular technology. Old 2G/3G infrastructure makes way for new networks, 4G and 5G
The good news is that 4G LTE will be available for at least a decade to come, and will co-exist with 5G networks.
There has been some delay in shutting down 2G/3G networks due to the amount of M2M/IoT devices which utilise these services. 2G and 3G were ideal for applications with small, infrequent data requirements but IoT industry is now looking to next-generation LTE technologies such as Cat-1, Cat-0 and Cat-M1 as 2G, 3G (and eventually) 4G replacements.
Number of 2G/3G shutdown in 2020 and 2021
During 2020, a total of 49 networks had been shutdown, of which 33 were 2G and 10 were 3G networks. The pace is accelerating and during 2021, an accumulated total of 75 networks will be shutdown, with 65% of them being 2G networks.
By 2025, GSMA expect that more than 106 networks will be shutdown across the world, with 60% being 2G networks.
During 2021, the majority of the shutdowns in Asia Pacific will be 2G, while in Europe 12 networks will be shutdown, being majority of 3G.
Different regions depict different trends related to 2G/3G shutdown :
Europe is experiencing more sunsets in 3G than 2G, The Americas, Asia and Oceania is on a different path from Europe, focussed towards turning 2G off: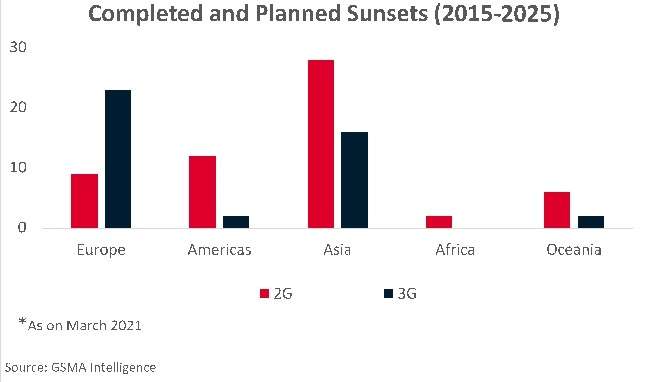 Lets summarize the main drivers explaining why 2G/3G shutdown will accelerate in the next following years around the world  :
1.There is a cheaper and faster smartphone replacement rate
It is vital for operators to to free up spectrum for 4G and very soon for 5G also
---
Benefit from Massive discount on our 5G Training with 5WorldPro.com
The most complete and comprehensive 5G course, follow this
link
for more information
Start your 5G journey and obtain 5G certification
contact us:
contact@5GWorldPro.com