We see clearly industry convergence towards the 3 bands strategy: 600-700mhz coverage, 3.5Ghz capacity, 26-28Ghz ultra capacity, below a updated figure from qualcomm (08/2020)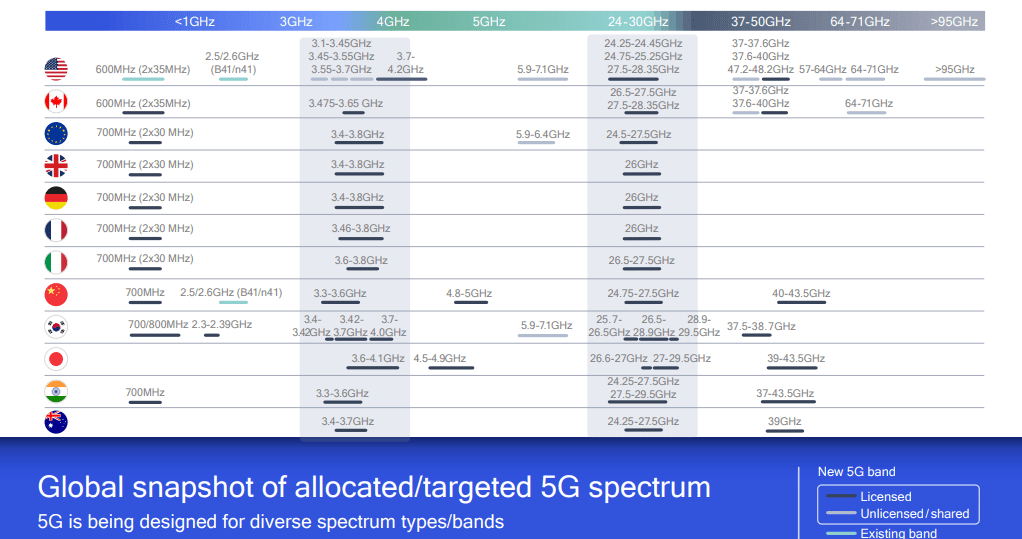 Some highlights from the above figure:
-Strong progress in USA in Midbands with CBRS auction, additional allocation in the 4GHz and the 1200MHz unlicensed spectrum allocated in the 6GHz band.
-China already allocated 700Mhz and 3.5GHz bands and trialing on mmWave.
-Japan allocating a wide range of bands for private networks including 2.6GHz, 1.9GHz, 4.9GHz and 28GHz by Q4 2020.
-Singapore, Hong Kong and Taiwan already launched 5G on 3.5GHz and 28GHz.
-Acceleration of Europe 3.5Ghz awards – by end 2020, 25 countries expected to have finalize their allocations.
-Europe progress on 26GHz fairly slow, only 3 countries awarded, but a large amounts of trials across others.
-mmWave business models: Italy, finland and germany spearheading different allocation models for private networks on 26GHz
-India, Malaysia and Indonesia in various pilots but licensing only happening late 2021.
Below the global mmWave spectrum targets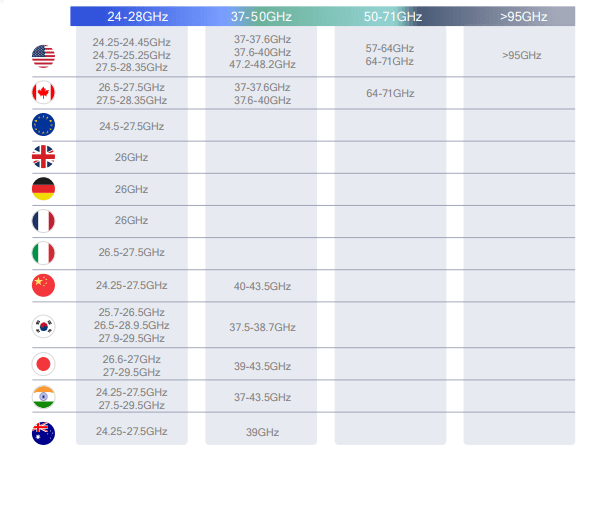 ---
Benefit from Massive discount on our 5G Training with 5WorldPro.com
The most complete and comprehensive 5G course, follow this
link
for more information
Start your 5G journey and obtain 5G certification
contact us:
contact@5GWorldPro.com