Citizen Broadband Radio System (CBRS) is the first spectrum within the 3 GHz band to be released by the FCC for commercial wireless nationwide service. The CBRS band is 150 MHz in size that spans between 3550 and 3700 MHz. The CBRS band is the Band 48.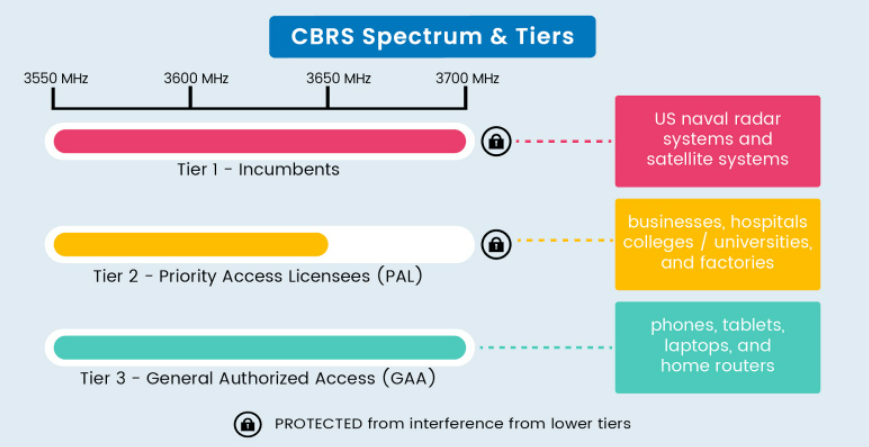 Following the announcement of the band CBRS two additional frequency bands are available within the 3 GHz band, the first one one above and the second one lower than the CBRS Band.
First band in US called C-Band, which ranges from 3.7 up to 3.98 GHz, and the second band runs between 3.45 until 3.55 GHz. Within the last 18 months it was announced that the FCC has added the spectrum of 550 MHz for commercial use. This is a significant increase compared to the standard wireless frequencies of 600/700/850MHz, PCS and AWS. This equals around 600 MHz in the U.S.
CBRS can be described as "lightly licensed" since it's either licensed or unlicensed based on the user's level. CBRS offers three levels of users.
First tier is reserved for incumbents. This includes US Navy radar systems which are always first-priority users which operate within the 3550-3700 MHz band. To safeguard this area, there are numerous coastal exclusion zones that cover almost all parts of US coastline. This is to ensure that naval vessels can continue to communicate with shipyards and other facilities without any interference.
The second tier is  for Priority Access Licensees (PAL). PAL licenses are granted to the highest bidders , and provide coverage on a county by county basis. The single PAL license is valid for a 10 megahertz channel in the 3550-3650 MHz band. They are issued in 10-year blocks that are renewable for 10 years. PALs must accept the interference of Incumbent access users, but receive protection against interference from General Authorized Access.
The third level is for General Authorized Access (GAA). GAA users are not licensed and are the last to utilize the spectrum in the band of 3550-3700MHz. Although this is the tier that is most accessible, it comes with no assurance of protection against interference from the other tier, or from other GAA users.
---
Benefit from Massive discount on our 5G Training with 5WorldPro.com
The most complete and comprehensive 5G course, follow this
link
for more information
Start your 5G journey and obtain 5G certification
contact us:
[email protected]