GSMA intelligence forecasts rapid 5G adoption rates after the initial launches in 2019 there will be 1.35 billion 5G connections by 2025 GSMA Intelligence. . At this point, 5G connections will account for close to 15% of the total mobile connections.
Find below evolution of 5G connections and 5G coverage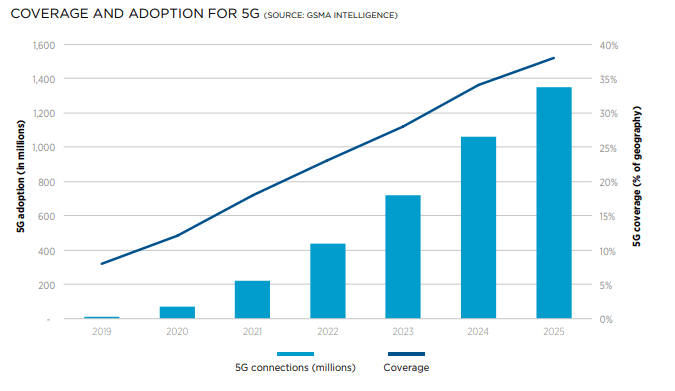 5G Market Shares
5G connections will grow from the initial launches in early 2019 to reach around 15% of the global connection base by 2025. However, this headline figure masks significant variations at the country level: some of the early adopters will see adoption rates close to 50% by this date. These higher levels of adoption (and implicitly higher levels of 5G coverage) will give operators in these leading markets greater flexibility to consider turning off legacy networks on a more accelerated timeline when the commercial case allows.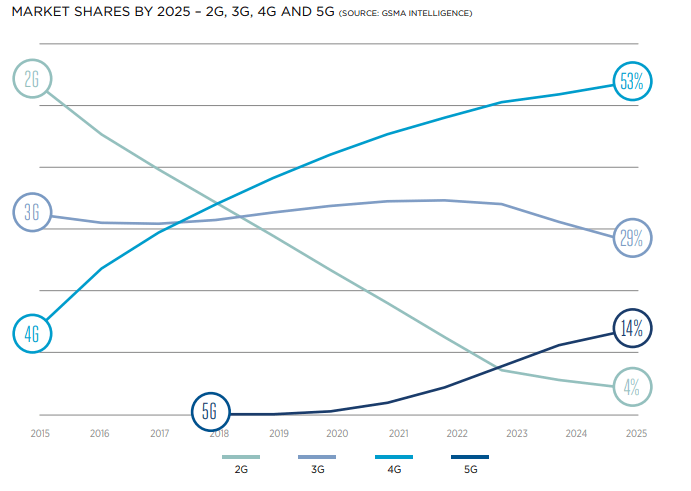 Wide variations in 5G adoption
The variation of 5G adoption is driven primarily by the readiness of local markets for 5G, as well as the desire of both operators and governments in each region to be seen as leaders in the 5G era. The GSMA provides deeper coverage of 5G developments in the regional 5G reports and the Mobile Economy reports.

North America, and specifically the US, will have the highest rate of 5G adoption, driven by early launches and the propensity of domestic consumers to rapidly adopt new technologies
Japan will closely follow the US on adoption, with forecasts of around 49% of connections being 5G by 2025, for a total of 95 million connections
China: will be the largest 5G market and will play a key role in driving global 5G adoption rates, given the size of its market and the impressive rate at which it adopted 4G
Source GSMA
---
Benefit from Massive discount on our 5G Training with 5WorldPro.com
The most complete and comprehensive 5G course, follow this
link
for more information
Start your 5G journey and obtain 5G certification
contact us:
contact@5GWorldPro.com