3GPP released a subset of the specifications sufficient to deploy the NR access network in NSA mode in December 2017, before completing the first phase of the 5G specifications with Release 15 in June 2018.
5G phase 2 (Release 16) is set to be completed by December 2019. Release 16 will enhance the capabilities of the NR and introduce additional features such as enhancements to ultra-reliable low-latency communications for industrial IoT; integrated access and wireless backhaul; and more sophisticated network slicing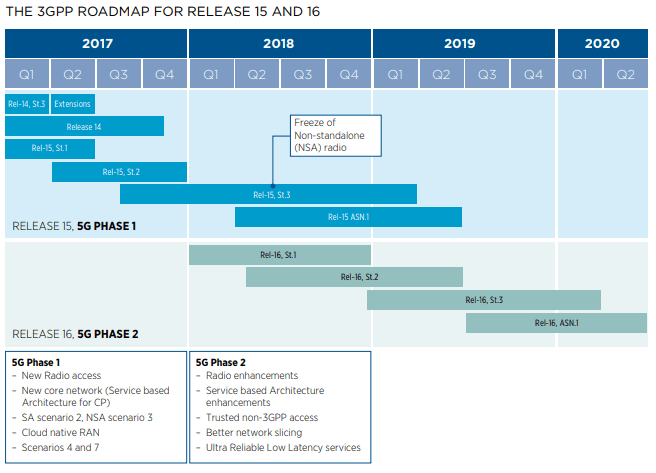 SA vs NSA 5G
The NSA configuration is most suitable for providing enhanced mobile broadband services since NR can act as a capacity overlay to the 4G network, supplementing existing network investments. Where an operator aims to focus on eMBB alone (at least initially), then NSA is suitable.
The Radio and access networks will need upgrades to support 5G NSA. These will include software; new hardware to support new 5G frequency bands and to aggregate the processing capacity in baseband that 5G needs; and antenna systems for MIMO. NSA devices only need to support the new radio access technology: the control protocols are the same as those used by LTE devices.
SA 5G configuration allows operators to fully exploit the features of NR as well as the capabilities of the new core network architecture. This will include network slicing (multiple logical networks on a single physical network), as well as ultra-reliable and low-latency transmission. This set of features makes an SA deployment more suitable to address the enterprise market. A full 5G system deployment, comprising the new radio access technology and new core network architecture, will require new investment cases and market readiness is critical to these decisions.
5G technical features
Network slicing, a mechanism that allows operators to create virtual networks dedicated to a specific service, use case or customer over a common physical network infrastructure, is a potentially key 5G capability. Network slicing is a very attractive tool in operators' quest to address the different needs of enterprise customers. For example, the quality of service requirements of connected car use cases will be vastly different from the needs of agriculture customers.
Multi-access Edge Computing (MEC), an approach that deploys computation and storage resources closer to the edge of the network, will provide lower latency capabilities to enable real-time control and automation in various fields (e.g. remote control and real-time monitoring of heavy machinery, remote surgery in healthcare).
Virtualisation, which was already in progress, will accelerate with 5G. The 5G Core Network will be fully virtualised to support faster service provisioning and enhanced network maintenance.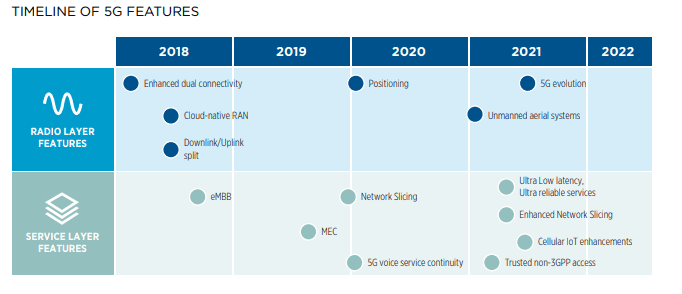 Network slicing
Enabled by NFV and SDN, Network Slicing enables the creation of two or more virtual networks with different performance parameters over a single physical network infrastructure, so each of the virtual/logical networks can serve a specific purpose. Conceptually, it can be depicted as slicing a physical network into many networks to serve specific use cases (With network slicing, operators can address a variety of different client requirements, especially enterprises, with one physical network.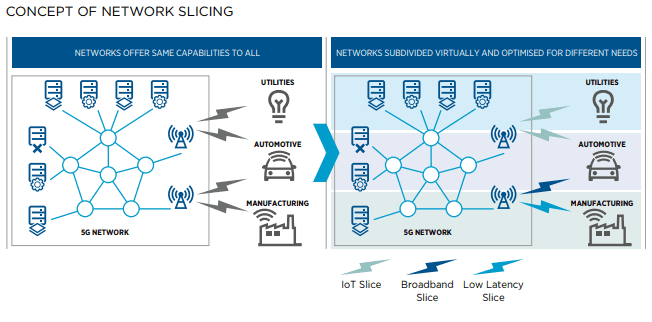 Network Slicing offers the biggest commercial innovation opportunity in the 5G era. It will enable operators to create predefined, differing levels of services for different enterprise verticals, enabling them to customise their own operations.
Network Slicing will give operators more value levers to achieve simpler resource management, deliver better customer experience, provision new services with a shorter time-to-market, and unlock the wider enterprise market. Figure below highlights three focus areas, in two categories, for Network Slicing.
For the in-house opportunity, an operator can dedicate separate slices to existing customer segments. This will provide an end-to-end segmentation beyond what can be achieved by segmenting based on SIM cards, or within the billing or customer care systems.
A home operator can also offer 'roaming slices' to foreign operators, enabling them to tailor services for their roaming customers.
But the big, new opportunity for operators is to use Network Slicing to tap into new horizons in the enterprise space. Network Slicing is one of the 5G era enablers for operators to tap into the over $400 billion enterprise revenue opportunity. Operators, with the right device capabilities, operators can create slices for different enterprise segments and tailor these slices to their needs.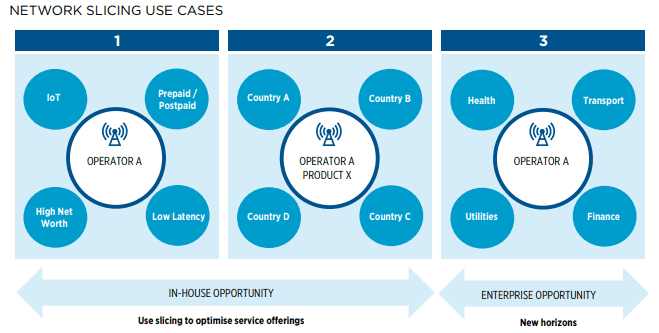 Multi-access Edge Computing (MEC)
Multi-Access Edge Computing (MEC) moves the computing of traffic and services from a centralized cloud to the edge of the network and closer to the customer. Instead of sending all data to a cloud for processing, the network edge analyzes, processes, and stores the data. Collecting and processing data closer to the customer reduces latency and brings real-time performance to high-bandwidth applications.
Multi-access edge computing (MEC) for mobile networks, is most suitable for use cases that require at least one of the following: low latency; real-time analytics; and high volume data transfers.
As edge computing reduces the physical distance of communications nodes, latency can be reduced significantly while allowing real-time analytics to take place.
Having the core functionality at the edge also allows a more efficient transfer of massive volumes of data.

You typically implement MEC with data centers that are distributed at the edge. Applications at the edge require a high bandwidth and low latency environment. To achieve that service providers create distributed data centers, or distributed clouds. The resources that make up a cloud can reside anywhere—from a centralized datacenter to a cell site, a central office, an aggregation site, a metro data center, or on the customer premises.
Key drivers for edge computing
Key drivers for edge computing include the Internet of things (IoT), today's 4G networks, and next-generation 5G networks. Exponential growth in traffic, especially video, and the explosion of connected devices mean that network infrastructures will need to scale effectively to deliver higher volumes of data. MEC brings the flexibility and agility of the cloud closer to the customer to meet these demands.
Edge access networks are also evolving to include converged residential, business, and mobile networks and virtualization.
With MEC, service providers can monetize their network by introducing new innovative applications and services that require low latency for their customers.
An IoT example is a connected car constantly sensing driving patterns, road conditions and other vehicle movements to provide safety guidance to the driver. Most of the predictive and prescriptive insights need to be provided on time. That means, sensor data needs to be collected, processed and analyzed at the edge to provide low latency insights to the driver.
---
Benefit from Massive discount on our 5G Training with 5WorldPro.com
The most complete and comprehensive 5G course, follow this
link
for more information
Start your 5G journey and obtain 5G certification
contact us:
contact@5GWorldPro.com