3GPP meets four times a year at the end of each quarter to plan and develop new releases, which improve upon past releases and provide new standardized functionalities. The four releases already slated for 5G are Releases 15, 16, 17 and 18, although 3GPP may add more as technology and user needs evolve over time.
The table below shows the most recent Releases only. The data is extracted from the 3GPP portal at https://portal.3gpp.org/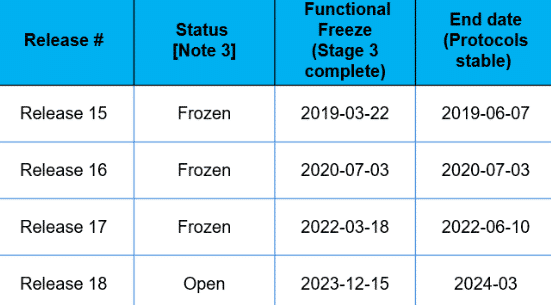 1- 3GPP Release 15 was to establish 5G NR technology foundation :
Its focus was mainly related to Enhanced Mobile Broadband for 5G Non standalone, but is also covers 5G Standalone  with a new radio system complemented by a next-generation core network (5GC).
2- 3GPP Release 16 with Enhancement of existing features and expanding to new use cases and industries :
The most notable enhancements to existing features in release 16 are in the areas of multiple-input, multiple-output (MIMO) and beamforming enhancements, dynamic spectrum sharing (DSS).
For new use cases, The major focus in Release 16 is to enabling Ultra reliable low latency for mission critical applications, with extensions to V2X communications, to automated and remote driving, Industrial Internet of Things (IIoT) and enhancements to URLLC.
3- 3GPP Release 17 with Continued expansion and enhancements :
In fact Together with enhancements aimed at existing use cases such as mobile broadband, industrial automation and vehicle-to-everything, 3GPP release 17 introduces support for new ones including public safety, non-terrestrial networks and non-public networks.
Some of the fetaures, are for URLLC for NR-based IIoT, NR-based NTN, MIMO, integrated access and backhaul (IAB), MBS positioning, NR multicast, and broadcast services, RAN slicing for NR,
4- 3GPP Release 18 New wave of 5G innovations :
Release 18, is the fourth standard for 5G and the first to be named"5G Advanced », planning of release 18 indicates that it will significantly evolve 5G in the areas of artificial intelligence and extended reality.
Artificial Intelligence and Machine Learning (AI/ML) is one of the main flagship Rel-18 projects and the top category in terms of defining the "Advanced" aspect unlike Release 16 and 17 which mainly helped extend 5G to new verticals.
---
Benefit from Massive discount on our 5G Training with 5WorldPro.com
The most complete and comprehensive 5G course, follow this
link
for more information
Start your 5G journey and obtain 5G certification
contact us:
contact@5GWorldPro.com