Network Slicing is a 5G-enabled technology that allows the creation of an E2E Network instance across the Mobile Network Domains (Access, Transport, & Core). Each slice is ideally identified with specific network capabilities and characteristics. The technique of provisioning a Dedicated E2E Network Instance to End users, Enterprises, & MVNOs is called "Slicing" where one Network can have multiple slices with different Characteristics serving different use cases. The technology is enabled via an SDN/NFV Orchestration framework that provides Full Lifecycle management for the Slices enabling the dynamic slicing (on-demand instantiation & termination for Slices) with full-Service Assurance Capabilities.
The Concept is not relatively new where the Mobile Broadband Network has always succeeded to provide services to end-users via partitioning the network through Bearers & APNs. Below is how the evolution looks like transiting from one Network serving all services to Dedicated Core Network Instances serving more targeted segments.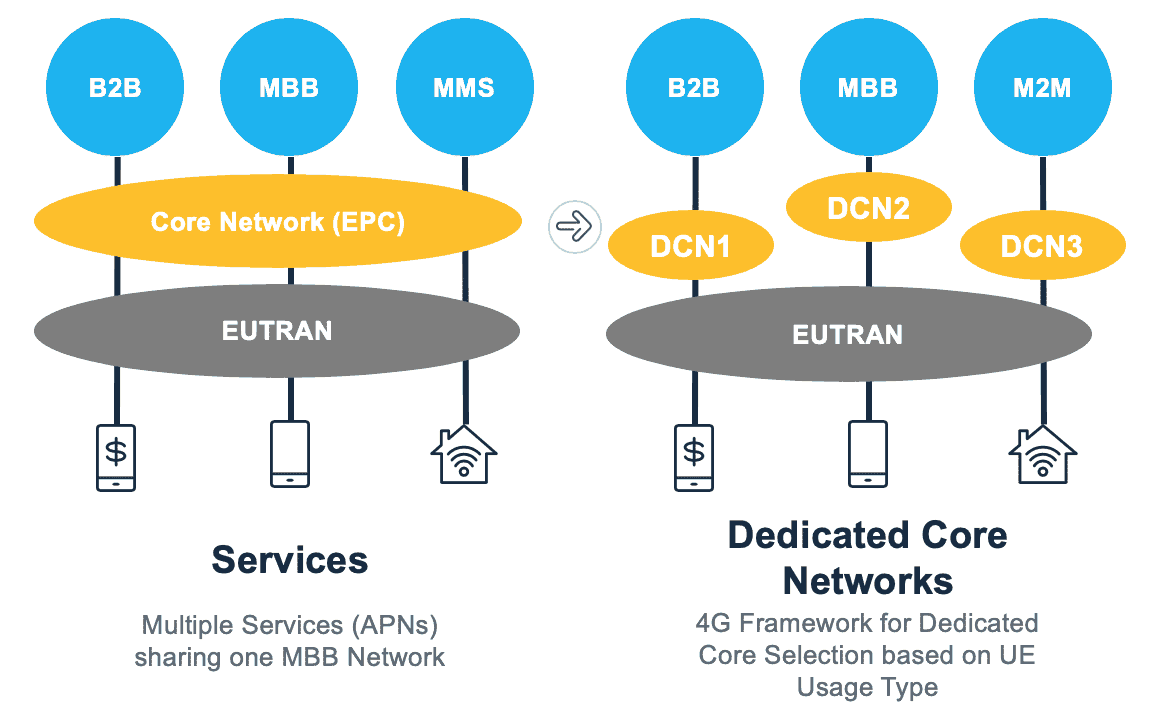 With the introduction of 5G, the 4G Dedicated Core logic evolved to be 5G Network Slicing with a standard framework that advocates 4 standard slices to be used for global Interoperability (eMBB, uRLLC, MIoT, & V2X)and allowing more space for dynamic slices addressing different Marketing Segments. These slices are globally identified by Slice/Service Type (SST) which maps to the expected network behavior in terms of services and characteristics.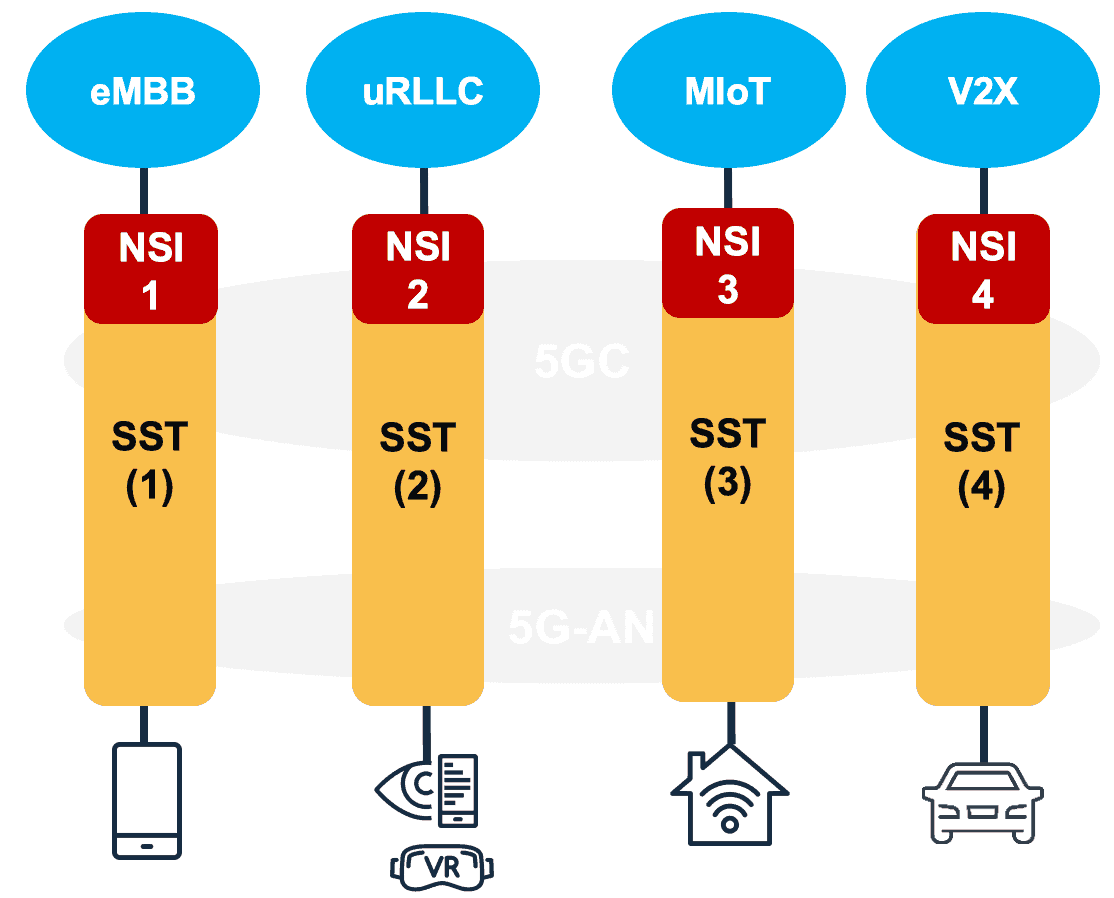 New terms and concepts are introduced with Network Slicing such as
Network Slice Instance (NSI) – 3GPP Definition – A set of Network Function instances and the required resources (e.g. compute, storage and networking resources) which form a deployed Network Slice.
Network Slice Subnet Instance (NSSI) – 3GPP Definition – A representation of the management aspects of a set of Managed Functions and the required resources (e.g. compute, storage and networking resources).
If the above definitions are not clear, then the below diagram might clarify it a little bit. It is all about the customer-facing service (Network Slice as a Service) and how it is being fulfilled.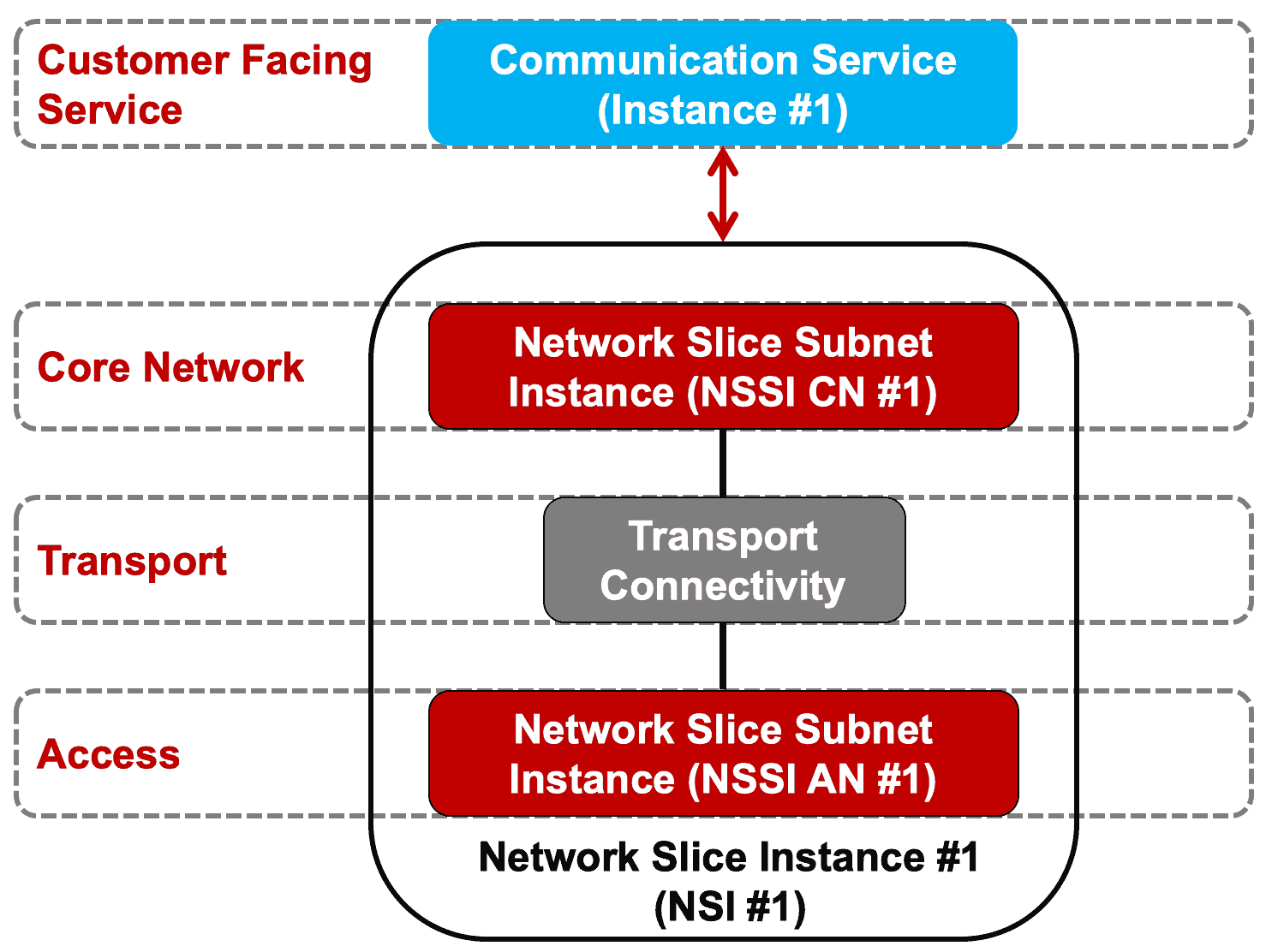 What is the difference between network slicing and Quality of Service?
The key differentiator of the network slicing approach is that it provides a holistic end-to-end virtual network for a given tenant. No existing QoS-based solution can offer anything like this. For example, DiffServ, which is the most widely deployed QoS solution, can discriminate VoIP traffic from other types of traffic such as HD video and web browsing. However, DiffServ cannot discriminate and differentially treat the same type of traffic (e.g. VoIP traffic) coming from different tenants.
Also, DiffServ does not have the ability to perform traffic isolation at all. For example, IoT traffic from a health monitoring network (e.g. connecting hospitals and outpatients) typically have strict privacy and security requirements including where the data can be stored and who can access it. This cannot be accomplished by DiffServ as it does not have any features dealing with the compute and storage aspects of the network. All these identified shortfalls of DiffServ will be handled by the features being developed for network slicing.
In summary
Network slicing is very different from QoS because it will enable end-to-end virtual networks encompassing compute, storage and networking functions. Existing QoS approaches are all point solutions which offer a subset of functionality at best when compared to network slicing. Network slicing is generating a lot of excitement in 5G discussions mainly because it will open many new business opportunities. Network slicing is part of the general trend to make network services more virtual and thus benefit from the lower costs and increased innovation that the IT industry reaped with the move to the cloud and Everything-as-a-Service. It is not likely that network slicing will require revolutionary new technical standards. Instead, the technical changes needed will be applied across a myriad of technologies and standards all focused in the key areas of improved network intelligence, system integration, OAM and traffic engineering.
---
Benefit from Massive discount on our 5G Training with 5WorldPro.com
The most complete and comprehensive 5G course, follow this
link
for more information
Start your 5G journey and obtain 5G certification
contact us:
contact@5GWorldPro.com