The latest data from Korea's Ministry of Science and ICT (https://www.msit.go.kr) confirms the healthy growth seen in the country's 5G market since service launches in early April. There were 1.34 million 5G subscriptions at the end of June 2019, up 0.55 million over May, equivalent to a 2.0% share of subscriptions.
Subscription market shares are tracking a little differently from current 4G levels, with SKT down four percentage points (39.7% for 5G versus 43.5% for 4G), KT up four points (31.4% versus 27.6%) and LG U+ up six percentage points (29.0% versus 22.7%). The "missing" 6.2% in those 4G market shares is with MVNOs, who have yet to enter the 5G market. While KT is the only operator with unlimited plans as a standard feature its 5G portfolio, the current promotions offering monthly charge discounts and unlimited data offers have yet to offer any real advantage.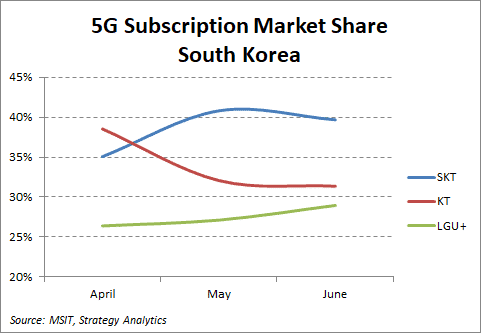 Those 2.0% of subscriptions on 5G accounted for 6.4% of data traffic in June. Average data use in June on 5G, at 24.0GB, was 2.6x higher than the 4G average of 9.1GB and 3.2x higher than the overall market average of 7.4GB. What is more interesting is the mix of usage between network generations and plan type. For Q2, 5G use averaged 2.5x higher than 4G, though this was 1.2x higher on unlimited plans (27GB on 5G versus 23GB on 4G) and 4.7x higher on standard plans. We estimate unlimited plans account for 32% of all subscriptions in the market: 8% of 3G subscriptions, 33% of 4G subscriptions and 80% of 5G.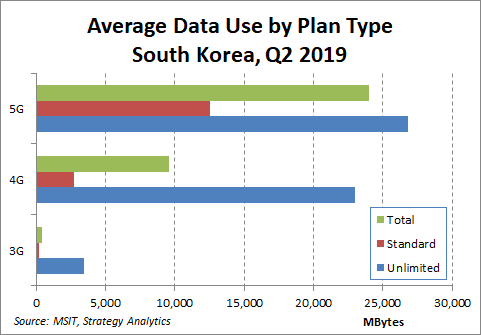 ---
Benefit from Massive discount on our 5G Training with 5WorldPro.com
The most complete and comprehensive 5G course, follow this
link
for more information
Start your 5G journey and obtain 5G certification
contact us:
contact@5GWorldPro.com