The five keys to 5G
5G  will take a much larger role than previous generations and today's networks and will require many technological innovations. We will talk about them below in five easy pieces: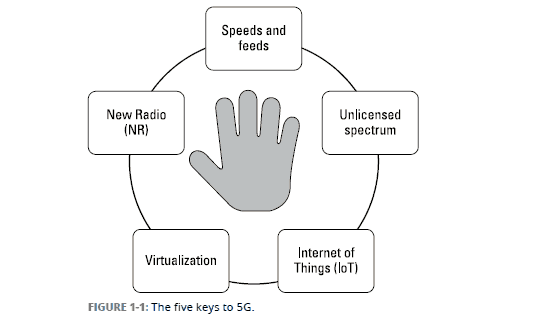 Speeds and feeds:
Speeds of up to 20 Gbps will be achieved using a combination of innovations such as carrier aggregation (CA), massive multiple input multiple output (MIMO),and quadrature amplitude modulation (QAM). we will talk about meaning of each technologies in futur articles.
New Radio (NR):
5G NR is a true 5G native technology that is currently being  standardized. 5G NR addresses the need for achieving all 5G promises
Virtualization:
Network functions virtualization (NFV) enables the massive scale and rapid elasticity that MNOs will require in their 5G networks. Virtualization enables a virtual evolved packet core (vEPC), centralized radio access network (C-RAN), mobile edge computing (MEC), and network slicing.
Internet of Things (IoT):
IoT devices pose a diverse set of requirements and challenges for 5G networks. some of the iot solutions are NarrowBand IoT (NB-IoT), LTE Category M1 (LTE-M), Long Range (LoRa) and Sigfox
Unlicensed spectrum:
MNOs are increasingly using unlicensed spectrum in the 2.4 and 5 Gigahertz (GHz)frequency bands. 5G networks will need to tap into the vast
amount of spectrum available in these unlicensed bands to offload traffic in heavily congested areas and provideconnectivity for billions of IoT devices.
---
Benefit from Massive discount on our 5G Training with 5WorldPro.com
The most complete and comprehensive 5G course, follow this
link
for more information
Start your 5G journey and obtain 5G certification
contact us:
contact@5GWorldPro.com