USA 5G Auction
-The FCC auction of residual 28GHz(27.5 28.35GHz) frequencies began in November2018.The auction closed in January 2019. Bids reached 704 millionUSD.
-Auction of the 24GHz frequencies is on going. Bidding was expected to conclude on 28May,2019. As that date came closer, the auction amount was approaching 2billionUSD (on21May,2019) after 62 rounds.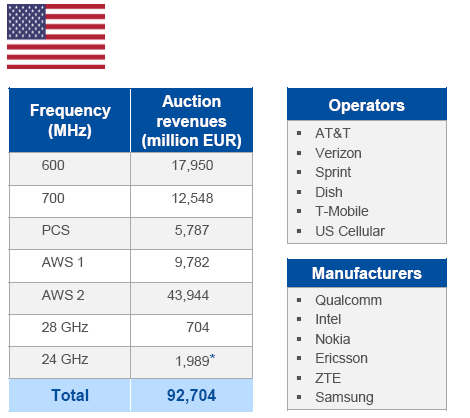 South Korea 5G Auction
-3.5 GHz and 28 GHz auction was completed in June2018-Total bids reached 3.6 trillion KRW (2.8 billion EUR) of which 82% was for 3.5GHz spectrum. Spectrum authorisations were issued between September and December 2018)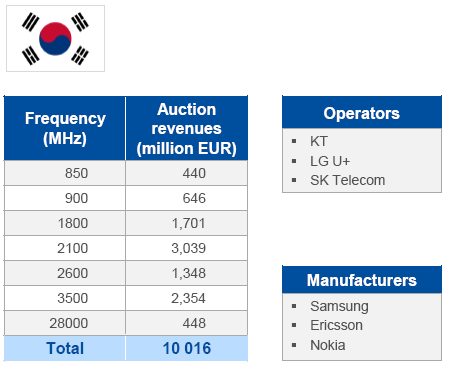 Italy 5G Auction
-Spectrum in the 700MHz (694MHz-790MHz), 3.6GHz-3.8GHz and 26.5GHz-27.5GHz bands was auctioned in September and October2018. The whole auction ended after 14 days of intense bidding, far above expectations.
-Total bids reached 6.55 billion EUR, of which 4 billion EUR for the highly-coveted mid-frequencies. The 26.5GHz-27.5 GHz spectrum was split into five lots of 200MHz.
-Licences will be valid until 2037 , thought he 700MHz frequencies will not be opened up until mid-2022.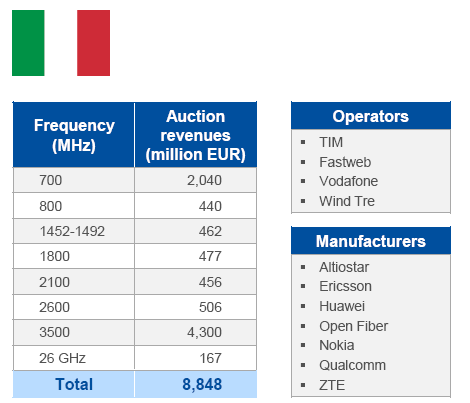 China 5G Auction
-5G deployment in China is strongly backed by the Government. 5G rank s among the strategic priority for the whole country for the 13th5-Year Plan for 2015-2020.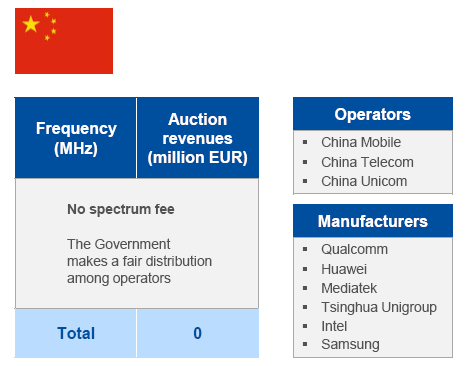 Japan 5G Auction
-Around 300 million USD have been allocated by the Japanese authorities to promote the Industrial IoT and related technologies such as 5G, bigdata, artificial intelligence and robotics.
-Japanese operators are targeting the rollout 5G in time for hosting the 2020 Summer Olympics and Paralympic Games in August 2020. Japan mainly supports the 28GHz (27.5-29.5GHz) band for 5G. The MIC has also approved the 3.6-4.2GHz and the 4.4-4.9GHz frequencies.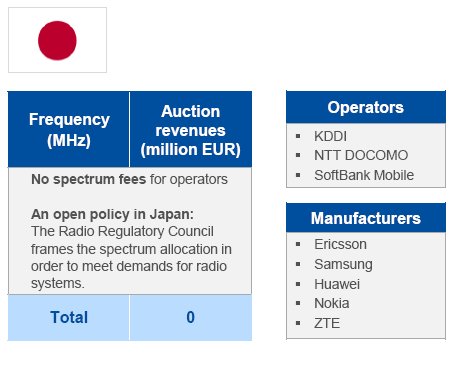 UK 5G Auction
-Auction of 2.3 and 3.4GHz spectrum (3UK:151million GBP for 20MHz of 3.4 GHz spectrum; EE:303 million GBP for 40MHz of 3.4GHz; O2: 378million GBP for 40MHz of2.3GHz spectrum and 40MHz of 3.4GHz spectrum; Vodafone:378million GBP for 50MHz of 3.4GHz)
-However most industry observers did not want a repeat of the infamous 3G auction in 2000 which generated 36 billion Euros for the treasury and restricted the ability of operators to invest in infrastructure.
---
Benefit from Massive discount on our 5G Training with 5WorldPro.com
The most complete and comprehensive 5G course, follow this
link
for more information
Start your 5G journey and obtain 5G certification
contact us:
contact@5GWorldPro.com