On 24/02/2021, the FCC has declared the winning bidders in the Current 3.7 GHz spectrum auction and Verizon is the top in the list, accounting for over half of this spend.
In fact Verizon spent 45.5 Billion for approximately 3,500 total licenses obtaining an average of 160MHz of spectrum throughout the entire US
AT&T arrived second by spending $23.4 billion for 1,621 licenses, then AT&T Netted 80MHz at 95 percent of the nation, with the rest split between 60MHz and 100MHz.
T-Mobile, meanwhile, spent $9.3 billion for 142 licenses, covering around 68% of the US population.
Dish Network spent only $2.5 million for the license covering Cheyenne, Wyoming
There were several surprises in the result, as we saw Private equity firm Grain Management which  spent $1.3 billion, while Canopy Spectrum spent $172 million, knowing that canopy is a venture between Jennifer Fritzsche (a former Wells Fargo analyst) and Edward Moise Jr. (a longtime spectrum investor)
Find below the full result of the FCC C-band  spectrum auction: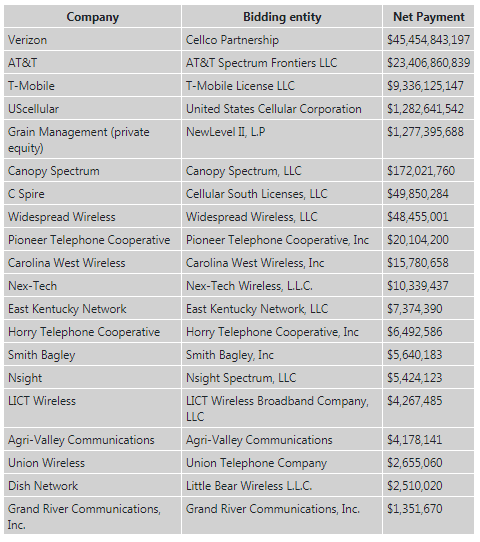 ---
Benefit from Massive discount on our 5G Training with 5WorldPro.com
The most complete and comprehensive 5G course, follow this
link
for more information
Start your 5G journey and obtain 5G certification
contact us:
contact@5GWorldPro.com