When Is 5G Not 5G? When It's Not 100MHz, Says Three
To the average telco, the merest whiff of a new technology is like a hare to a half-starved greyhound. Before anyone knows it, the poor thing has been seized hold of and mauled beyond recognition. It's a depressing indictment of an industry devoid of original ideas about how to attract customers. In the absence of imagination, operators wait for their suppliers to release the next standard from the laboratory traps, and then rip the young animal to shreds.
The pattern started in the 3G era and it continues to this day. Back in the mists of time, T-Mobile US (or T-Mobile USA, as it was then) butchered 4G when it started advertising an advanced 3G service under a 4G label. Years later, and under different management, it ridiculed AT&T for pouncing on the 5G moniker to describe a pumped-up version of 4G.
The case involving UK mobile operators is more nuanced, however. In an advertising slogan popping up everywhere, Three UK, the smallest of the UK's four mobile network operators, has effectively accused its rivals of AT&T-like 5G abuse. "If it's not Three, it's not real 5G," that reads.
It's a curious assertion by an operator whose smartphone customers still can't receive a 5G service (Three is currently using 5G to support only a broadband offer). Riled by Three's advertising, both BT and Vodafone launched their own 5G mobile services earlier this year. And while AT&T was derided across the industry for dressing a 4G service up as a 5G one, analysts have been scurrying around London to carry out 5G speed tests on those BT and Vodafone networks. No one has complained about faux 5G.
Ah, but that's because they missed the ITU small print, reckons Three. At one time, it seems, the increasingly irrelevant International Telecommunications Union said: "The requirement for bandwidth is at least 100MHz." A 5G service without 100MHz is no better than one without those New Radio specifications the 3GPP cooked up in 2017. And guess what? Three owns 100MHz of contiguous spectrum, as it is keen to point out in a graphic that turns up in most of its presentations. No other service provider has more than 50MHz, that same graphic shows.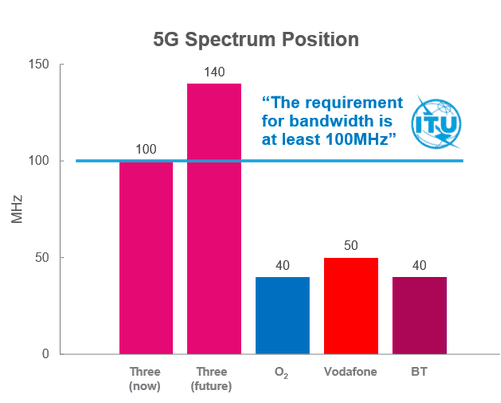 Three's adversaries have reportedly complained to the UK's Advertising Standards Authority (ASA) about its cheekiness. And one suspects the ASA won't feel quite as strongly as Three does about the 100MHz issue. Even if its London offices are filled with technology experts who enjoy poring over documentation about cellular standards, siding with Three would imply that every other 5G advert misleads.
Disputes of this nature are a sign of the industry's shortcomings. Genuinely innovative telcos would not be engaged in point scoring over the definition of a connectivity standard. Their advertising would not even mention 5G. Rightly or wrongly, that technology has been tarnished by association with Huawei, a Chinese vendor deemed a security threat by critics. And it has been devalued like any sequel that serves up more of the same. "What does 5G do?" asks the average consumer. "It's like 4G, but faster," comes back the expert's underwhelming response.
None of this is a great surprise, though. Telecom operators aren't the most imaginative bunch, history shows. In the UK, one dumped two well-known brands in favor of the lame Everything Everywhere several years ago. BT's new logo undoubtedly cost millions to produce but looks as if it were rustled up by primary school children at playtime.
Occasionally, there are flashes of brilliance, such as this zombie-themed "different takes guts" promotion by Telefónica-owned Giffgaff (be warned, the footage is very gruesome). Even the ASA joined in the humor, writing in a blog published in May that its plan when faced with similar adverts would be to "have a cup of tea and wait for the whole thing to blow over" (although Giffgaff's advert was banned). Usually, telecom advertising is the wrong kind of horror show.
---
Benefit from Massive discount on our 5G Training with 5WorldPro.com
The most complete and comprehensive 5G course, follow this
link
for more information
Start your 5G journey and obtain 5G certification
contact us:
contact@5GWorldPro.com