To date Qualcomm has actually advertised 2 key standalone 5G modems for widespread adoption: the Snapdragon X50 and also the Snapdragon X55. Today the company is revealing information on its upcoming 3rd generation 5G modem design, the Snapdragon X60, which is being advertised as the premium offering for smart phones and commercial designs that require a discete 5G modem.
Important functions of this modem include the fact that it is built on a 5nm process, supports carrier aggregation between Sub-6 as well as mmWave, carrier aggregation between Sub-6 GHz bands in FDD/TDD as well as provides up to 7.5 Gbps download speeds ove rmmwave and 5Gbps overs Sub 6Ghz.
5G is split across two chunks of spectrum: the slower-but-more-practical sub-6GHz 5G and the faster-but-less-practical mmWave 5G. The X60 introduces the ability to use both signals at once.
The interesting other major change in the X60 is the shift from a 7nm procedure to a 5nm process, making the modem hardware itself smaller sized and more power effective, indicating it'll likely be less complicated for phone manufacturers to fit the modem right into their phones.
Qualcomm likewise introduced a brand-new QTM535 mmWave antenna to go with the brand-new X60, which it says is smaller than the QTM525 which is too huge for the slim profile of Apple's next 5G phone.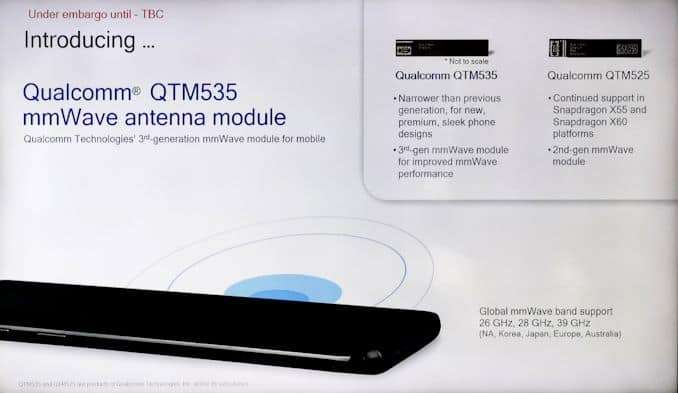 This comes after Apple was saying to be developing its own, in-house antenna system for mmwave that would better fit the designated iPhone design. Antennas for mmWave technology  are particularly, given the poor range of the ultra-fast wireless technology, with 5G phones typically requiring several mmwave antennas to ensure good connectivity.
It's not finalized that Apple will actually use its own 5G antenna for its 2020 iphone. The company is evidently taking into consideration two layouts: a thinner one using apple inhouse made antennas, and a the thicker one X60 from Qualcomm.
At the going rate, it's most likely that we won't see any kind of phones with an X60 modem up until the end of 2020 . As Qualcomm points out, a lot of the new features that the X60 can support– like sub-6GHz and mmWave aggregation — will not be readily available up until end of 2020 at the earliest
---
Benefit from Massive discount on our 5G Training with 5WorldPro.com
The most complete and comprehensive 5G course, follow this
link
for more information
Start your 5G journey and obtain 5G certification
contact us:
contact@5GWorldPro.com