What difference between SA and NSA Deployment in 5G?
My friend: Hi Ibrahim, I have a question for you.
Me: Go ahead, please.
My friend: Which is better SA or NSA for 5G deployment?
Me: You can't judge it like that, every model has its own merits and shortages, so it depends on the business case of the MNOs, which mode is suitable to their requirements, current network architecture and of course, the financial state.
My friend: But, what are the advantages of NSA that aren't available in SA?
Me: It has many adv. such as faster deployment as EPC is already in use, also existing LTE idle mode used, so coverage gaps due to low no. of 5G sites at initial phase will be enhanced by the 4G network, also dual connectivity with LTE which can enhance the throughput instead of 5G alone and I think you already saw it in our DT results where split bearer was enabled.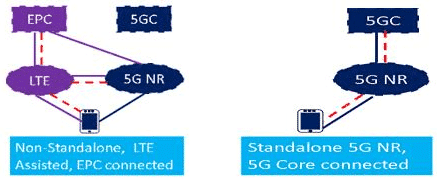 My friend: That means MNOs usually will go for NSA first?
Me: Not necessarily as if MNO is covering a small area, or it is a new one, also if there is a need to deploy all the 5G use cases, so MNO can go directly for SA and I know some MNOs who followed this approach and already some 5G networks started with SA.
My friend: Thanks a lot. Me: You are most welcomed.
Please share this information to spread it and make sure it is clear for everyone.
Source: Ibrahim Sayed
Linkedin Profile: https://www.linkedin.com/in/ibrahim-sayed-88a7747-5g/
---
Benefit from Massive discount on our 5G Training with 5WorldPro.com
The most complete and comprehensive 5G course, follow this
link
for more information
Start your 5G journey and obtain 5G certification
contact us:
contact@5GWorldPro.com