Up to September 2020 The German communications regulator has handed out 74 licences to public and private sector applicants to build 5G campus networks.
Bundesnetzagentur (Federal Network Agency), or BNetzA, which oversees the telecoms industry in Germany (among many other industries within its purview), announced earlier this week that it has so far awarded 74 licences to applicants for deploying private 5G networks (called local networks in Germany, or "lokale Netze") on 3.7-3.8GHz.
This 5G local frequency allocations almost doubled in 5g months it was 33 licences in April 2020. More than 50% of these allocations have gone to IT/network service and technology providers, including Huawei.
In fact, Huawei's branch in Germany, based in Düsseldorf, is also a recipient. It isn't clear what the Chinese telecoms kit maker will use the frequency for, but likely for 5G related R&D work.
According to the BNetzA press release, the regulator expected the frequencies to be primarily used for Industry 4.0, for the agricultural and forestry sector. President of BNetzA, Jochen Homann, stated, "by awarding spectrum for local 5G networks, we are creating scope for innovation for enterprises. There has been a great amount of interest in the spectrum, and we are anticipating a large number of applications still to come."
Interestingly, The German regulator is now exploring to make 24.25GHz–27.5Hz concessions available for local 5G enterprise networks and BNetzA is expting to see more active participation thanks to the high bandwidth this frequency can enable
By opening 5G frequencies to private bidders, BNetzA and its peers in countries like Japan and United Kingdom are helping popularise 5G in the business world, in thise case the most impacted player will be the telecom operators which has already made big 5G investments.
This means those 5G operators need to ask themselves some hard questions on how to strengthen their value propositions to their business customers, especially when the migration to Standalone mode will begin .
Below list of organisations that confirmed as having been granted a 5G local midband, 3.7GHz/3.8GHz concession, at 20 September 2020 Source: BNetzA; TelcoTitans.com.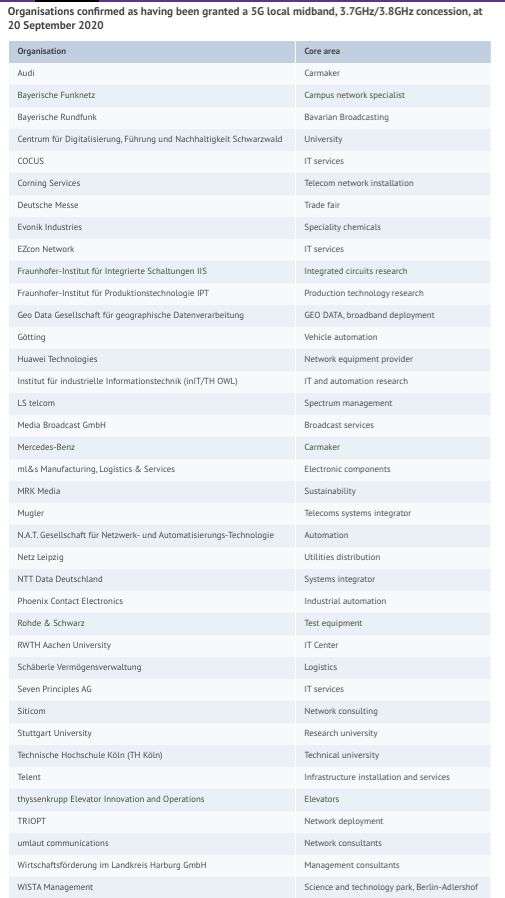 ---
Benefit from Massive discount on our 5G Training with 5WorldPro.com
The most complete and comprehensive 5G course, follow this
link
for more information
Start your 5G journey and obtain 5G certification
contact us:
contact@5GWorldPro.com