You'll learn how to enable and use 5G on your iPhone 13 in this post.
The flagship iPhone series for 2021 has already been released by Apple. The iPhone 13 is available in four different models: the iPhone 13, iPhone 13 Mini, iPhone 13 Pro, and iPhone 13 Pro Max. If a 5G network is available in the area, each of the four iPhone 13 versions supports it. However, you'll need to change a few iPhone settings to use the 5G network on your iPhone 13.
So, without further ado, let's take a look at how to turn on and off 5G on your iPhone 13.
Conditions for utilizing the 5G network on your iPhone 13
Before you can start using the 5G network on your iPhone, check sure the following conditions are met:
Check to see if your network provider offers 5G services.
Check to see whether your location has decent 5G coverage.
Activate your eSIM or place a SIM card in the sim card slot.
Activate a 5G plan on your SIM card.
It's time to enable the 5G network on iPhone 13 once the following prerequisites are completed.
How to enable 5G network on iPhone 13
To enable a 5G network on your iPhone, you need to choose one of the two 5G options available, let's see what those are:
5G On: If you want your iPhone to stay connected to the 5G network for a long period, turn it on (As long as 5G network is available). This means that you'll continue to use a 5G network even if it only offers 4G/LTE speeds. If you live in a region with good 5G coverage, this is the best option. The option has the disadvantage of fast draining your iPhone's battery.
5G Auto: Select this option if you want your iPhone to intelligently choose a 5G network when it offers better network connectivity than 4G/LTE. Your phone will automatically transition to 4G/LTE whenever your 5G network drops and provides an experience similar to 4G/LTE. This option is perfect for preserving the battery life of your iPhone.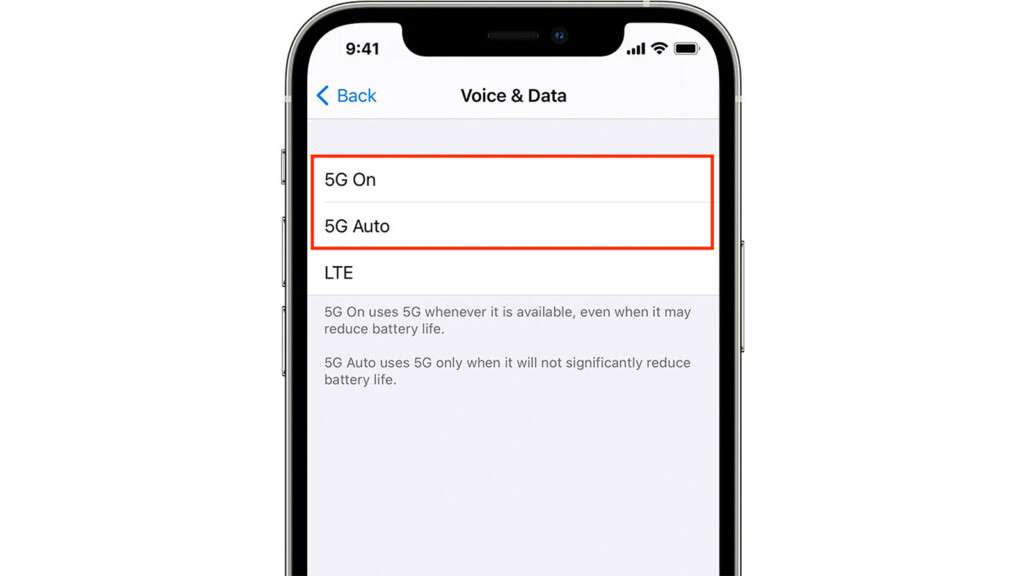 Here's how to enable 5G on your iPhone 13 now that you know which of the two alternatives is best for you.
To begin, go to your iPhone's Settings app.
Choose Cellular options from the drop-down menu.
Select 'Cellular Data Options' from the menu.
The 'Voice & Data' option must be selected here.
The two alternatives we previously discussed will appear on the next screen. In addition, an LTE option will be available.
One of the following two options must be chosen:
When a 5G network is available, choose '5G Auto' to use it.
Select '5G On' to enable iPhone to continue to use 5G even if the network connection is poor.
Now your iPhone will quickly switch to a 5G network if your area has a strong 5G network connection. When you first connect to the 5G network, a 5G icon will appear in the top right corner of your iPhone's screen. However, you'll only be able to do this if you've chosen to use Cellular Data rather than Mobile Data.
How to disable 5G network
When you meet all of the above requirements, your iPhone may automatically convert to 5G. Here are the methods to switch off 5G on your iPhone 13 if you don't enjoy the 5G experience and want to disable it right now.
On your iPhone, go to Settings > Cellular > Cellular Data Options.
In the Cellular Data screen, tap the 'Voice & Data' option.
The same three alternatives are available as before.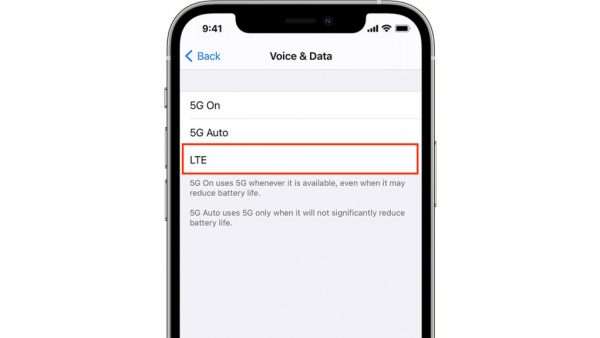 To turn off the 5G network on your iPhone 13, choose the 'LTE' option.
After making the change, close the app and you will see that your iPhone 13 will quickly switch to 4G/LTE.
How to optimize the 5G network usage on your iPhone 13
Apple provides enough customization options to control and optimize the 5G network's use limit. Continue reading if you want to learn how:
On your iPhone 13, open the Settings app.
In the settings app, go to Cellular > Cellular Data Options.
Finally, you must activate 'Data mode.' You will be presented with three options from which to choose.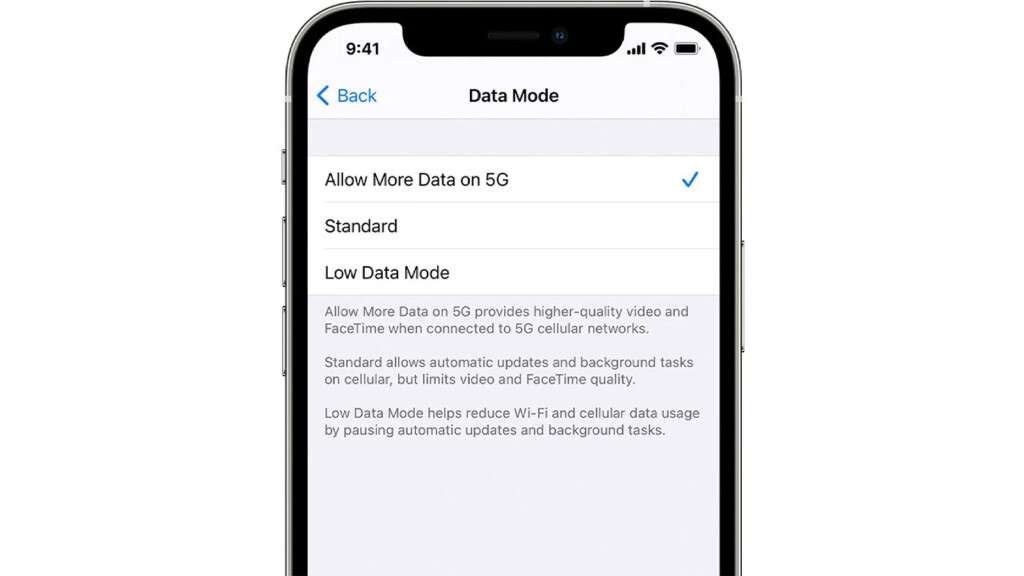 If you need to watch high-resolution videos or use the FaceTime app, select the 'Allow More Data on 5G' option.
The 'Standard' option reduces data usage by showing videos at lower video quality.
The 'Low Data Mode' will be great for you if you need to save more data. It will impose restrictions on background apps that use a lot of data.
Conclusion
That's basically it! Here's everything you need to know about using 5G on your iPhone 13, including how to enable, optimize, and disable it. When available, a 5G network provides improved network speed and connectivity. I hope this information is useful.
---
Benefit from Massive discount on our 5G Training with 5WorldPro.com
The most complete and comprehensive 5G course, follow this
link
for more information
Start your 5G journey and obtain 5G certification
contact us:
contact@5GWorldPro.com