Below the most interesting insghts from the Ericsson Mobility report issued in November 2020.
In 2026, 5G networks will carry more than 50% of the world's mobile data traffic
Global total mobile data traffic is estimated to reach around 51EB per month by the end of 2020 and is projected to grow by a factor of around 4.5 to reach 226EB per month in 2026. The figure below represents the mobile data that will be consumed by more than 6 billion people using smartphones, laptops and a multitude of new devices at that time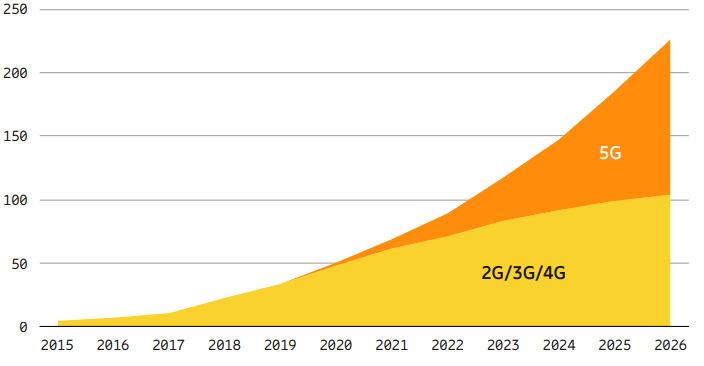 Globally, the growth in mobile data traffic per smartphone can be attributed to three main drivers: improved device capabilities, an increase in data-intensive content and more data throughput from subsequent generations of network technology.
5G adoption is growing in momentum in both the network and device domains:
• over 150 5G device models launched commercially, including iOS-capable devices
• many devices supporting 5G frequency division duplex (FDD), most capable of dynamic spectrum sharing (DSS)
• first standalone (SA) network launches in Asia and North America
• first chipsets and devices with NR carrier aggregation (CA) capability
• first 5G-capable devices with retail prices at USD 300 for sub 6GHz outside China and USD 400 for a device with mmWave support in the US
• new device chipsets for mmWave spectrum bands will lower the price points for these devices
During 2020 the pace of 5G introductions has accelerated, with many network developments
MmWave : Increased competition in the mmWave space has led to the first devices with a retail price around USD 400. mmWave-capable phones. Additionally, the fixed wireless access (FWA) use case has been strengthened by coverage enhancements in mmWave, both on devices and on the network.
Non-standalone (NSA) is no longer standing alone : 5G SA networks have now been launched in North America and China. Devices have been upgraded via software updates to enable SA capabilities in applicable markets.
CA on NR In NSA : the first level of aggregation is provided by combining an LTE with an NR bearer. The next step is combining two or more NR carriers. This feature will provide a significant increase in time division duplex (TDD) coverage
The 5G device ecosystem is broadening : Availability of different device price tiers and operating systems is crucial for 5G adoption and now iOS users can also enjoy 5G.
The graph illustrates availability of network functionality, as well as support in devices :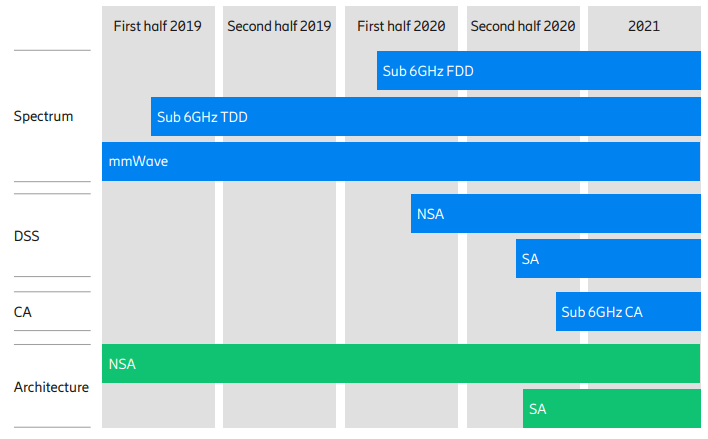 ---
Benefit from Massive discount on our 5G Training with 5WorldPro.com
The most complete and comprehensive 5G course, follow this
link
for more information
Start your 5G journey and obtain 5G certification
contact us:
contact@5GWorldPro.com