Many operators are now encouraged to replace their existing RAN with an Open RAN which is playing an increasingly important role in the evolution of open network standards.
In fact, a recent survey of global service providers by Cisco has shown that while only 22% of respondents stated their company has already deployed Open RAN commercially Where another 60% foresee commercial deployment of Open RAN in the next 24 months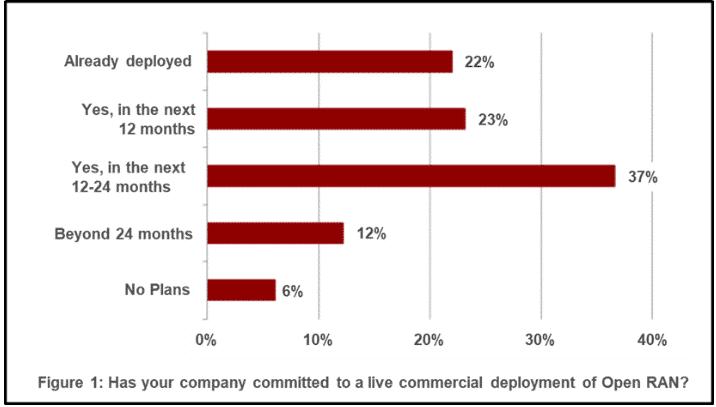 What about the impact on TCO ?
There've been many studies on the TCO of O-RAN vs. Legacy based on O-RAN models in several scenarios: with Centralized vCU with DU or vCU&vDU. And it shows that mobile operators can reduce TCO by about 30% in both Capex and Opex with below drivers :
  With reduced HW & SW costs, improved performance in RU&RF layers with chipsets
• RAN power saving with RIC capabilities
• Achieving supply chain flexibility & price competition
• Creating highly efficient, Secure Cloud & Zero Touch automation
• RU and Antenna commodization & more efficient CNFs and CaaS.
In addition to the obvious advantages of not having vendor lock-in, Open RAN is viewed by many as a more secure option. While open products are thought to have more vulnerabilities than proproetary products, open-source products also come with more security tools available, that provides more protection and threat elimination.
The Open-RAN solution is compatible with a broad array of network infrastructure security solutions that provide protection, visibility and threat elimination. This can expose your business to risks and can increase the cost of protecting your assets.
Don't miss our 5G Open RAN Training online recorded through our platform, let us know if you are interested.
---
Benefit from Massive discount on our 5G Training with 5WorldPro.com
The most complete and comprehensive 5G course, follow this
link
for more information
Start your 5G journey and obtain 5G certification
contact us:
contact@5GWorldPro.com