Applications of artificial intelligence and machine learning in 5G
As 5G standards mature more quickly and its pre-commercial tests are carried out around the globe, the pace of 5G deployment is speeding up and more innovative applications are made possible through 5G networks. In the era of 5G, telecom carriers are also faced with the challenges of network complexity, diverse services and personalized user experience.
Network complexity refers to complex site planning due to densely distributed 5G networks, complex configuration of large-scale antenna arrays, and complex global scheduling brought by SDN/NFV and cloud networks. Diverse services range from original mobile internet services such as voice and data to known and unknown services developed in IoT, industrial internet, and remote medical care. Personalized user experience means to offer differentiated and personal services to users and build user experience model in terms of full-life cycle, full-business process, and full-business scenario that are associated with service experience and marketing activities for smart operations. These challenges require networks to be maintained and operated in a smarter and more agile manner.
Typical Application Scenarios of AI in 5G
Artificial intelligence (AI) represented by machine learning and deep learning has done a remarkable job in the industries of internet and security protection. we believes that AI can also greatly help telecom carriers optimize their investment, reduce costs and improve O&M efficiency, involving precision 5G network planning, capacity expansion forecast, coverage auto-optimization, smart MIMO, dynamic cloud network resource scheduling, and 5G smart slicing (Fig. 1).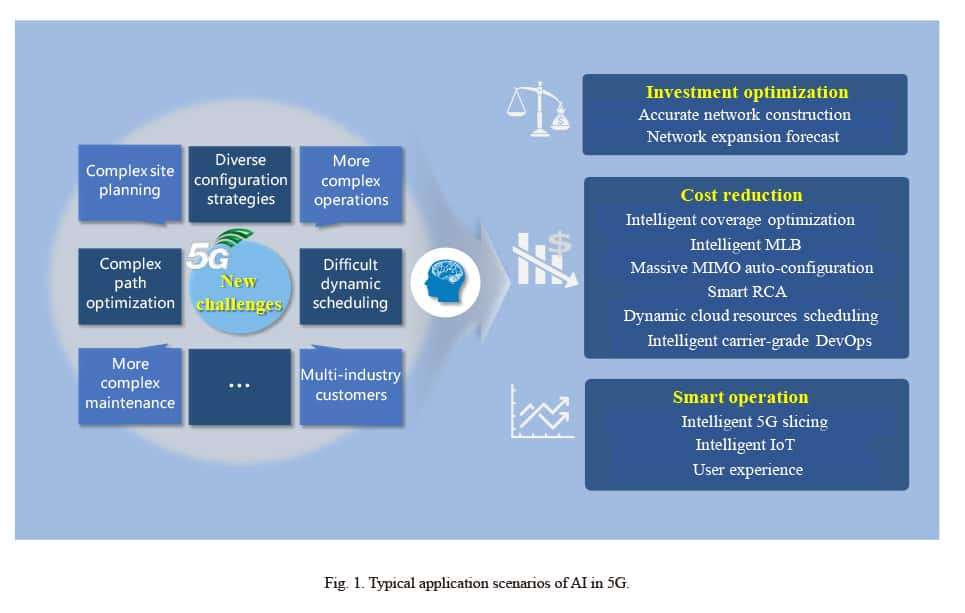 Precision Network Planning Enables Smart Network Construction
How to distribute cell sites is a major challenge carriers will face in 5G deployment. Traditional site layout relies on network simulation, drive tests and complaint trigger mechanism. This depends on expert experience and also requires substantial manpower. However, as 5G is introduced, the existing deployment mode will face greater restrictions and challenges especially for hybrid scenarios that comprise multiple systems, multiple frequency bands, and multiple cells.
In smart network planning and construction, machine learning and AI algorithms can be used to analyze multidimensional data, especially the cross-domain data. For example, the 0-domain data, B-domain data, geographical information, engineering parameters, history KPI, and history complaints in a region, if analyzed by using AI algorithms, can help make reasonable forecast on business growth, peak traffic, and resource utilization in this region. Also multi-mode coverage and interference can be measured for optimization and parameter configuration can then be recommended to guide coordinated network planning, capacity expansion, and blind spot coverage in 4G/5G networks. In this way, operators make their regional network planning close to theoretical optimum and can significantly reduce labor cost in network planning and deployment.
Smart Massive MIMO Enables Higher Efficiency and Better User Experience 
Massive MIMO is a key 5G technology. To leverage the advantages of massive MIMO sites (hereinafter shorted as MM sites), meet the coverage needs, and to provide optimal user experience, the beamforming for massive MIMO channels needs to match cell user distribution and minimize the interference from broadcast channels of neighboring cells.
The weight setting for an MM site is a critical factor that affects the beamforming effect. As for the needs of different coverage areas or different scenarios in the same coverage area, the weight setting and adjustment of the MM site plays a decisive role in improving coverage quality and efficiency. The O&M system can trigger the adjustment based on actual needs and expert experience. But the efficiency in this mode is quite low, and many adjustments have to be made to get close to the optimal value.
AI technology can be used to identify the law of change in user distribution and forecast the distribution by analyzing and digging up historical user data. In addition, by learning the historical data, the correspondence between radio quality and optimal weights can be worked out. Based on the AI technology, when the scenario or user distribution changes or migrates, the system can automatically guide the MM site to optimize its weights. To achieve optimal combination and best coverage in a multi-cell scenario, interference among multiple MM sites should also be considered besides the intra-cell optimization. For example, when a stadium is used in different scenarios such as a sports event and a concert, its user distribution is quite different. In this case, MM sites in the stadium can automatically identify a different scenario and make adaptive optimization of the weights for the scenario so as to obtain best user coverage.
Suggestions for Carriers to Deploy AI 
When deploying AI in 5G networks, carriers need to take into account their business growth, technology, and cost. At the present stage ( from 2018 to 2019), AI algorithm models can be embedded into certain network elements, maintenance tools or big data platforms that have been deployed, to perform offline training and model-based reasoning. This deployment mode requires relatively low computational capability and is suitable for local quick application, but needs a long period for upgrade and has limited strategic coordination of the entire network. At the second stage (from 2019 to 2020), an AI platform can be built in the operations orchestration system for centralized deployment and online training. This mode has the advantages of covering cross-domain and large-scale data, using special AI hardware for faster speed, and offering online training and fast iteration, but the reasoning in this model cannot be performed in real time. At the third stage (after 2020), considering large-scale deployment of 5G networks, lightweight AI engines can be used at the MEC/CU, so that the training and reasoning can be done close to the edges. This mode is suitable for low-latency IoT services and can cover all ubiquitous smart scenarios.
The application of AI in the telecom field is still in the early stage. The coming 5–10 years will be a critical period for smart transformation of carriers' networks. With its gradual maturity, AI will be introduced in various telecom scenarios to help carriers transit from the current human management model to the self-driven automatic management mode and truly achieve smart transformation in network operation and maintenance.
---
Benefit from Massive discount on our 5G Training with 5WorldPro.com
The most complete and comprehensive 5G course, follow this
link
for more information
Start your 5G journey and obtain 5G certification
contact us:
contact@5GWorldPro.com